YOUR NAME AND LOGO SEEM VAGUELY FAMILIAR...?
In the late 2000s, Robot In Bloom made and sold posh paper flowers. Perhaps you remember me from that?

Anyway, I'm into weird yarn art now! Wheeeeee!





HOW DO I BUY THE WEIRD STUFF YOU ALREADY MADE - YOU KNOW, ALL THAT ART I SAW ON YOUR INSTAGRAM AND FACEBOOK?
You're in the right place, chum!

Just click on PRODUCTS at the top of the page to see what's currently available in the shop.





CAN I GET SOMETHING CUSTOM MADE?
Absolutely, you can!

Once you have an idea of what you would like to collaborate with me on, go ahead and reserve a spot for custom work by clicking on CUSTOM PRODUCTS at the top of the page, add a "Custom art deposit" to your cart, and check out.

After you pay the $100 non-refundable deposit (or, in other words, once your payment goes through on the $100 shop "item" labeled "Custom art deposit,") I will reach out to you via the email address you provided upon checkout.

(And, hey, if I don't reach out within 2 business days, please email me at robotinbloom@gmail.com... It might mean I'm a Missing 411 case or I'm trapped under something heavy - or both!)

Then, we'll work together to make sure you get the personalized pet pillow, the salty welcome mat, the massive entryway rug with your small-business' logo, the chic one-of-a-kind piece for the weird 3rd floor corridor just begging for a splash of color... etc...

After your piece is finished, I'll create a listing for it in the shop so you can pay the remaining balance (total cost - $100 deposit = remaining balance) and get it shipped off ASAP!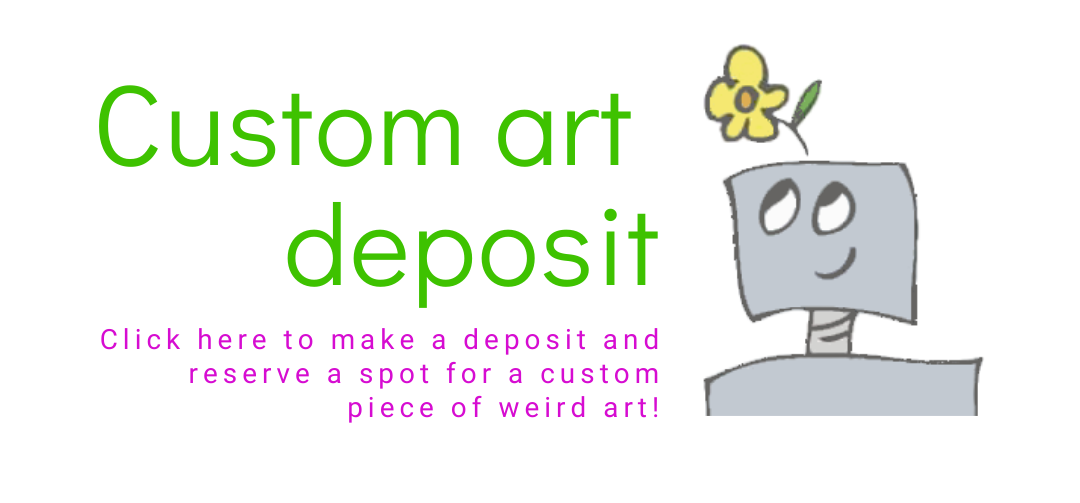 SPEAKING OF SHIPPING...?
Here's the thing: I'm worried about the Earth, but I'm not always sure what I can do to reduce my personal waste... I do know, however, that I usually have a bunch of cardboard boxes and that I can most likely construct a custom shipping vessel out of them to mail your art with. The packaging won't be pretty, but the art will be!

In-stock art pieces will be shipped within 2-4 business days and custom pieces will ship within 4-6 weeks.
(If you need your item sooner than that, email me at robotinbloom@gmail.com at the time of purchase.)
PLEASE NOTE:
Once your packaged art has been given over to a shipping organization (USPS, UPS, FedEx, etc.), the organization is
fully
in charge of its fate. Unfortunately, sometimes parcels get lost or delayed and you will need to contact the organization directly to file a claim according to their policy.
WHAT IS YOUR RETURN POLICY?
Everything Robot In Bloom sells is handmade by me (Sandy).

Despite the shop name, I am not a robot... so I can guarantee that the item you receive will contain slight imperfections and will, therefore, be one-of-a-kind. (Huzzah for independent art!)

I do not accept returns or issue refunds at this time.




HOW DO I CARE FOR MY ART?
Do NOT clean your art in the washing machine
Do NOT immerse your piece in water
You may vacuum your art piece, but ONLY with a suction attachment; vacuums with beater brushes (those spinning rod thingies) are not recommended for use on your art
Though a professional-grade carpet adhesive is used when finishing each piece, your art may shed a bit and that's totally normal. I vacuum and lint roll every item before it gets packed up, but you will likely notice some occasional stray yarn upon receipt and over time.